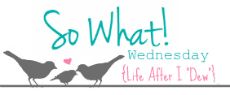 SO what
if the Dorito's taco from Taco Bell suddenly looks delicious and like something I want in my mouth. I promise, seriously I PROMISE I could never get one. But that doesn't stop me from thinking about them every time I pass a Taco Bell.
Speaking of delicious looking things, have you tried birthday cake Oreos yet?
SO what
that I *may* have checked the grocery store for these... and no, they aren't in the store by me. This is a blessing in disguise for sure.
(I have friends on FB who've posted friends in other states have sent them some. Amazing, right?!) Oreos are vegan!
Ok healthy things...
SO what
if I've been obsessed with my Aveda tea. It's the best ever. You don't even need to add sweetener! It's just delicious and caffeine-free and the best ever.
Remember
me talking about the Herbalife shakes last week
(and how I lost 5 lbs in 1 week drinking them!?)
Well... there's this independent Herbalife shake shop... think a smoothie shop, but all they make are these Herbalife shakes!
SO what
if it's $6, and I can make them for home. I am kind of excited to go there and try out their flavors, I think its cool there are shops like this. I want to try some flavors I don't know how to make... like wedding cake flavor or oatmeal cookie flavor.
SO what if I really love warm homemade kale chips dipped in katsup.... omggg. you're welcome in advance. (PS if you're the last on the planet not to make kale chips, just toss kale in olive oil, sprinkle with sea salt and bake in the oven at 350 for about 10 min.)
SO what
if I'm super excited that I randomly pinned the
key lime tart recipe
I blogged about yesterday and I got 54 repins and almost 200 hits to my blog just on that pin. Pretty awesome how social networking works :)
What are you saying
SO what
to this week?