If you're a close follower of my blog, the design and look has been a bit confusing these past few weeks because I've been updating the background, header, font, post title color, etc, etc. not only daily but sometimes hourly. I've reached a point in my blogging where I want to make my site a little (LOT) better. I have made the decision to hire a professional graphic designer to make over my blog. My way. I want my blog to reflect my personality and be super colorful and fun but also look professional. I've hired a graphic artist from Australia I found through Etsy and I'm super excited about working with her.

You guys follow me and deserve to read and see awesomeness. It'll be a bit before my blog's look is updated. In the meantime, I've had the most fun looking online at images and illustrations and really thinking about how I want this thing to look and feel. I have the working draft the designer's been doing and all I can say is YES! She gets me. This is a little bit of the new blog's header, it's adorable and sooo me, don't you agree?
And... in me getting on my blog game, I've also sponsored two blogs for the month of May! I'm almost in a place to get my own paying sponsors
(or email me if you want to be featured right now :)
In the meantime, me not having my own sponsors (yet) is not stopping me from supporting two ladies who I think are pretty cool. Their blogs are:
and
Both pretty ladies are raising funds for good causes and I feel it's only right to support a couple of the blogs I've been a fan of for so long. And... maybe someone who follows their blogs might venture over and check out my link and see that I have something to say they're interested in too. It's all about supporting each other :)
Another thing I've been doing is getting my game face back on for my Etsy shop
ShopLeah
.
WHAT!?
you say, you didn't even know I had an Etsy shop? Yeah I know... I gotta actually tell you guys about it for you to know. Once I get things rolling a little more I'll host a giveaway of some
ShopLeah
. Don't hold your breath because it might be a minute before the giveaway and I can't be held responsible for you passing out. If you're realllly hot to follow me for some ShopLeah updates, make sure to like
ShopLeah
on FB.
My birthday's this Saturday! Cinco de Mayo! I think me turning 32 is freaking me out slightly (why do bdays do that!?) and I feel like I need to get a little more focus in my life. There are sooo many areas that are out of my control. But this blog is 100% me. I spend a lot of time reading all your posts and working on my own. I need to make my space on the internet as awesome as it deserves to be.
If you've been driven crazy with the sometimes overly wacky color changes these past few weeks, I'm sorry. I am going to attempt (maybe) to keep it the same until I get the makeover. Thank you all so much for following me and reading what I have to say. You guys rock and your support is what's motivated me to make this next step to update my blog's look.
and I'll leave you with this crazy awesome eyelash art I found on Etsy... I think my life will be enriched when I have an occasion where these on my lids would be appropriate
(other than me sitting around my apt on a monday watching the Bachelorette... PS squeee! I can't wait!)
via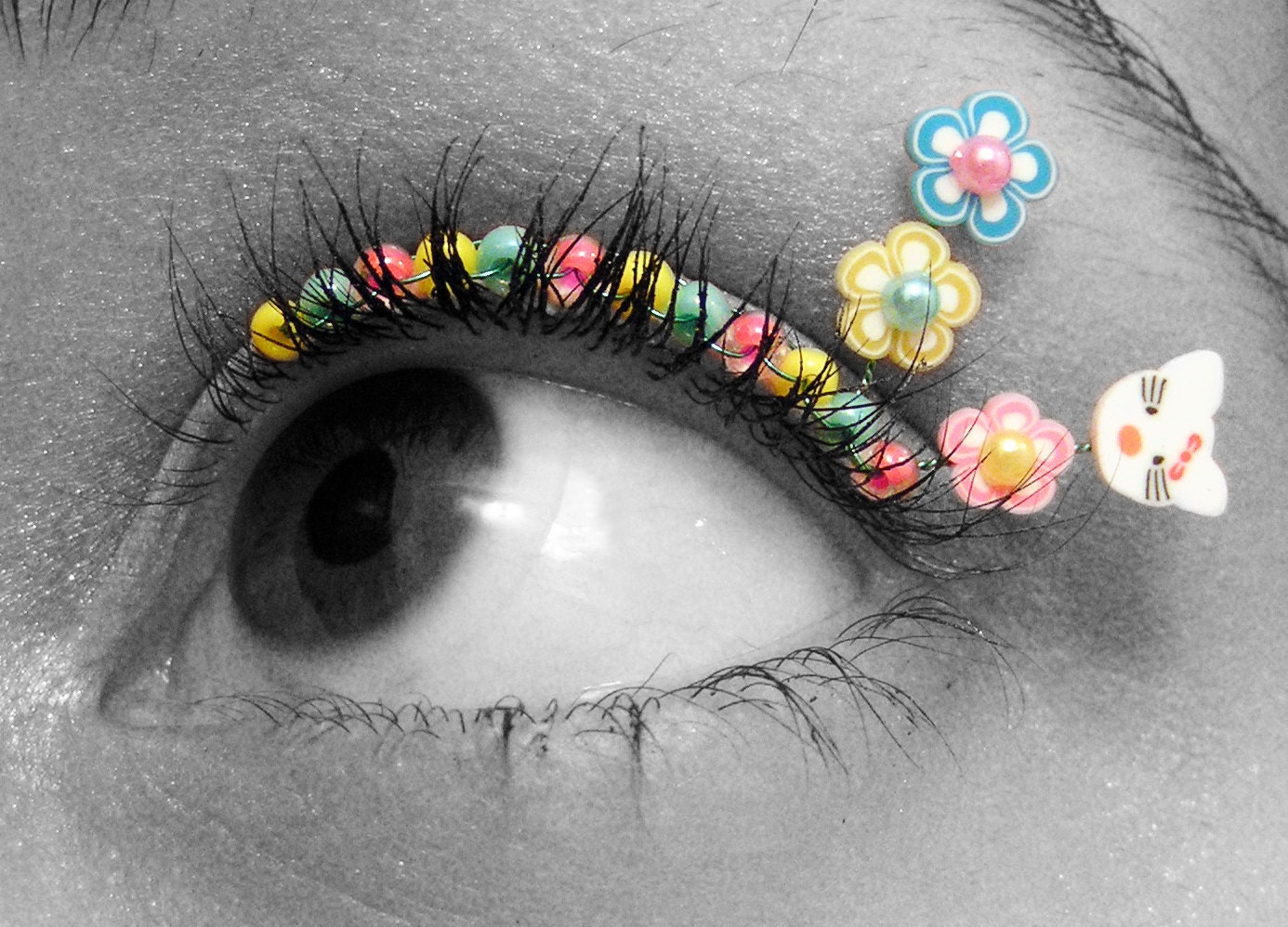 and my new signature's going to look a little something like this... LOVE IT!