So What!
I had a few bites of a delicious vermont maple cupcake with candied bacon this weekend. And I felt like I should have been eating it for breakfast. Cupcakes for breakfast trumps my normal fruit 'till noon diet any day :) ACTUALLY... what happened was I saw a food truck (van) and ran over to it. and I made this guy give me the cupcake for free. Sometimes I can't believe my own adorableness ;) ok really, he was closing up shop and had this one left. But whatev's, still free for me!
So What!
This Friday I'm going to see J. Cole for the 3rd time and Rick Ross for the 2nd time, along with some other awesome hip hop artists! Hip hop = my fav music for sure (old news). Plus I think J. Cole (who's from NC like me!) is a total hottie. Not so much in the below picture, but he's super cute!
So What! This Saturday BF and I are going to take Gav camping and tubing in the WV mountains. This weekend it's going to be HOT so we're getting out of town. I already got the s'mores supplies. What else do we really need? haha
So What!
My best cubeeee Courtney (cube-mate) is leaving me :( I will be so sad at work. Who will I talk to for 8+ hours a day through the cube wall? I'm working on her going away party, so that will be fun and we're ordering a Coldstone cake.
(excuse my deer in the headlights look. Old pic. Yikes!)
So What!
That reminds me of a really hilariously creepy story. So on one of my last days of the job where I worked before I moved down here for my current job, they had a pajama day in my honor. We ordered pizza for lunch and it was a blast! I had not yet sold my house, and was selling big stuff I didn't want to move on Craig's list. The day of my PJ work party I got a call from a dude who wanted to buy my thousand-dollar cherry sleigh bed. I ended up leaving work, going to my abandoned house
(we had moved into an apt trying to sell the house),
and I met a craig's list creeper stranger IN MY cute little PAJAMAS. To sell him a
bed
. Fortunately, the guy was nice and nothing weird went down. I got my $$ and actually helped him move the bed frame down the stairs (in my PJ's). But looking back, craig's list meet-ups are sketchy enough in a parking lot. What was I thinking meeting him in my PJ's in my empty house? And selling a BED!?
So What!
Even though Courtney my cubeee's leaving me, I'll still have Lauren!
(here's us at a Bachelorette party and me making another weird face)
This afternoon Lauren and I were some of the first ones to sign up for the
Charlotte Color Run on November 17th.
This race will sell out for sure, I'm pretty certain everyone I know is going to be there. Don't know what the Color Run is? it's a 5k of happiness! I CANNOT WAIT! to understand, Just watch the video:
Want to join our team?
Message me!
So What!
I'm in the blog button designing business. And I'm creative and cheap! Does your blog need a new button? Click
HERE
for more info! I LOVE designing them, it's one of my favorite things for sure.
So What!
BF's mom gave me a 2nd cute halter apron! Now I have one for my house and one for BF's. I look super domestic here, right? And I was only making a salad. HA!
So What!
I STILL haven't had a chance to edit my
HerosCon photos
from this weekend. I will do it this week. I promise!
So What!
are you saying So What! to this week? Link up with
Shannon of LAID
and share what's happening in your life!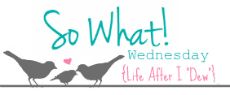 I'm also linking up with According to L for My Life In An Instagram :)