I get a lot of questions about what make-up I wear and have been even asked to do tutorials here on the blog. I find it super flattering but also kind of funny because I am the most non-makeup caring about girl ever. It is by far my least favorite thing to spend money on. Buying make-up to me is kind of like paying bills (wait, I sound like a hooker). Basically it's necessary for a better life (still sound like a hooker). Yes, I could not wear make-up and look a mess. But when I wear it, things generally go better and I FEEL better. Like paying bills, you just do it and your lights stay on.
That didn't even make sense, I know. So here are the facts: I look a hot mess with no make-up on. People always ask if I'm sleepy or sick without eyeliner. I have tiny eyes, hardly any lashes, and am a mess. So I always wear eye-liner on my upper lids. And yes, it's the style of what my mom calls,
'looking like a drag queen'
amount of eye liner I use. I don't know when to say when as I line, plus if I don't wear a ton, it all smears off by 5pm.
My favorite eyeliner is Maybeline Define-A-Line eyeliner in soft black. It is the kind you twist up (has anyone actually sharpened an eyeliner pencil since the 90's?) I honestly don't know if this is cheap or expensive, but it's a good one. I also have found a similar one with Avon, but sometimes it's hard to know when this one is running out and it's easier to just go to the grocery store or Target and pick it up. Like I said, I hate spending money on make-up.
I hate lipstick. I think it's stupid. I look very pale without lipstick so I always use the 'color-stay' or that variety of 'put it on once, don't think about it for the rest of the day' kind. Yes, this will cost you more than, say, a chapstick, but you'll use less of it because it goes on only once a day.
I'm currently a fan of Maybeline Powergloss. A lot of people think of me with the 'pin up look' but really it's just that my make-up doesn't fall off like everyone else's lol.
I am lucky to have good skin. I'm very pale or I think 'fair' is the correct term. It's easy for me to buy foundation just because I always pick the lightest one. I use foundation like concealer, and put it around my eyes, on my chin and on the sides of my nose only. It's taken me until now to embrace and appreciate my paleness. It's actually a good thing to have such fair skin. It makes any color of make-up I wear stand out. NSFW, but BF
(who's helped me embrace my pale skin, dark, hair look)
let me know there's a whole tumblr site dedicated to pale girls like me. Yup, some people are actually 'into' the fair-skin look. Not the Snookie-my-skin-is-orange, I spend-way-too-much-time-laying-out look.
I very rarely wear any kind of powder. Yes, that usually equals me looking like a shiny mess, but my skin is super dry. Anything on my face automatically peels off, so I've determined no powder is better than flakes of powder
(sorry, this is sounding gross).
I have no mascara preferance nor eye shadow preference. I stick to waterproof black mascara and pinky/plum/mauve tones for eyeshadow mostly. I apply eyeshadow and foundation with my fingers. It's just quick and dirty easy that way.
For my hair, I have found a trick IMO better than the famous pinterest sock bun. I wash my hair, blow dry it, and then after it's 100% dry, I twist it into a bun and secure with a ponytail holder or bobby pin. Then I finish getting ready. Right before I walk out of the house (to go to work, or to go out, or whatever I'm doing, usually around 30 min - an hr later) I take my hair down. I end up with smooth waves. Not super curly or perfect. But that 'magic' time after blowdrying is when my hair gets the most crazy if left alone (see 'before' photo below). I think it's not all the way dry even though it 'feels' dry after I blowdry, if that makes sense. So by me twisting it up, it becomes 'tame.'
If I'm being fancy I'll flat iron my hair. I have ditched my chi and only use my
Hana iron reviewed HERE
. Hilarious post, I know.
Me with no make-up but pretty flat ironed hair
I use bobby pins in my hair every day. I have weird flyaways and try to tame them anyway possible. Otherwise my hair will 'grow' and get all big and 80's looking in a really bad way.
I use bandanas A LOT on the weekends. I think they are cute and pin-uppy
(not sure if it's a word. it's the adjetive for pin-up).
They serve no purpose other than looking adorable. AND if I ever do need to really put my hair up/out of my eyes
(bangs are a fail for the summer. always.)
This is sort of a cute way to take care of them.
I really love nail polish, and nail art, but honestly I don't have a fav. Of course I prefer the 'good brands' over the cheap ones so I don't have to sit around painting on 4 coats of polish to get the color I thought I'd get the first time. So Essie, China Glaze, OPI,
Julep
, etc. are what I consider 'good.'
Like I mentioned before, my skin is super dry. I have tried all sorts of masks, exfoliation, etc. But that has started to cause little broken blood vescils around my nose. Gross! Plus as I get older (omg I feel so old even writing this!) I know my skin will lose moisture and get all wrinkly. So a while back I began using something a little kinder on my skin, yet that still deals with the dryness.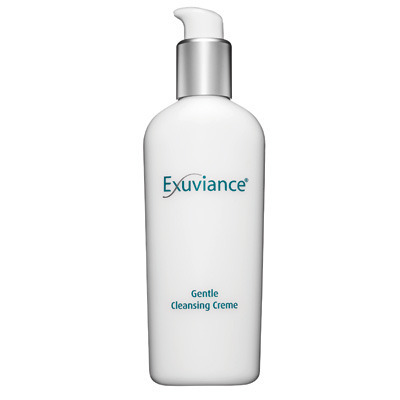 I use
Exuviance cleansing cream
. It contains gluconolactone, a natural polyhydroxy acid which really helps with my skin's texture. Basically it's a super light peel that is also a cleanser and can be used daily. Instead of exfoliating dead skin, this is sooo much gentler. I recommend it for everyone. I have sensitive skin and it's the best. And duh, no it's not cheap. Like $30/bottle but it'll last all year.
BUT that doesn't mean I also spend a ton on moisturizer. My absolute FAVORITE is Trader Joe's a Midsummer Night's Cream-Unscented. This is supposed to be a hand moisturizer, but I use it on my face... it's THAT gentle and it doesn't clog my pores
(with dry, sensitive skin, I do get breakouts sometimes if I use crappy products).
I also use a varitey of anti-aging products. I'm kind of a sucker for these because I REALLY don't want to look older than I am. A lot of my friends are in their mid-20's and I already know I'm the 'old girl' but I don't want to LOOK that way, you know? I haven't found one that I see a drastic difference from using, so I am not recommending any right now.
I think that's it... like I said, I'm sooo much less of a beauty girl than you'd ever think. I sold Mary Kay a LONG time ago, so the good news is I know how to apply make-up correctly. And sure, there's a difference in the products you buy, whether at the $1 store or high-end lines.
I know everyone has different brands they favor, but as a general guideline, before you hit up the Dollar Tree vs Sephora, IMO here's what I suggest as a rule of thumb to get the best value:
So what are your favorite beauty products? Honestly, this is stuff I only think of when I completely run out of. And I had to google every product because I had no clue on the brands I even use. I just know what each product looks like and that's how I find it at the store. That's why I LOVE getting
Birchbox
. I get to try all sorts of fun beauty items I wouldn't have ever known about otherwise. I'm borderline on canceling my Julep subscription, but still super happy with Birchbox.
Link up with my girls and share your beauty fav's!