In no particular order, I'm currently obsessed with....
Starbucks Green Tea Frappiccinos
via
OhMyGoodness I love these. Lauren, my bff at work, got me hooked. It's her fault! Not only are they gorgeous to look at (the perfect shade of sage green), they taste AMAZING! Imagine a creamy, sweet tea slushy. Ok that sounds gross. Just trust me on this one... they are my fav. I limit them to one a week because at $4 a pop for a grande, it's just excessive... but worth it!!!!
Instagram
It's like Twitter with pictures. Instagram (to me) is the
only
way to update where you are and who you're with. And remember, if you don't take a picture, it didn't happen!
(hahah easier said than done, I go days w/ out updating)
I love instagram and check it constantly. I LOVE seeing where my friends are/what they are up to. I follow so many bloggers and it's truly an extension of their blog that's always being updated. I am sooo over facebook.
Gav
I know, I know, all parents love their kids. But I am truly obsessed with my 6 year old Gavin. I don't mention him toooo much in this blog
(hopefully. trying not to bore you. I personally get bored reading about other ppl's kids)
, but IRL, he's my life and my heart. Words can't describe how much I love him. He is so sweet, kind, adorable, and perfect. His kindness and thoughtfulness are so pure. He is absolutely precious in every way. Over the past year, since he started school we have become even closer. Not sure if it's because I'm a single mom and it's just 'us' or what, but he is my everything.
BF
He was always on social media... one of my first friends on MySpace, Facebook and Twitter. We always kept in touch that way even though I didn't really know him that well when we went to middle/high school together.
He seemed to always be up to something interesting
(traveling the world, eating at cool places, dating super gorgeous girls who always were wrong for him, fascinating stuff for my dull life! lol.)
After I was separated for a while (many many months), and he realized I wasn't off-limits as a married girl, he suggested I come to visit so we could hang out and catch up. Just as friends. But we'd sort-of kept in touch for a while via online.
I'm sure you have hundreds of FB friends who you sort-of know what's happening in their lives, but not really. And sometimes people who you weren't all that close with, through seeing more of their day to day online, you realize you have more in common than you thought!
I told him to plan something awesome for us and if it was good enough for me, I'd go. Well.... he did. And it was perfect. So I made the plans and took the trip with Gav.
(I mean, he only lives 2 hrs south in the same city as my entire family and where I'm from. It wasn't like I was flying cross country).
When I arrived with Gav, I hadn't realized a lot of things about him via the online world. Like that he dressed so well, had such cool shoes, style, and was an amazing cook
(he made gav and I dinner).
He was good with gav and ... here's the kind of thing that's hard to describe, we had really good chemestry. We got along well and even though I was a little awkward/nervous, he put me at ease. He's a true southern gentleman. I'm not talking just opening doors and pulling out chairs. I'm talking carrying my bag, opening the car door
(that's a rare one),
and being totally attentive and made me feel like I was the interesting one.
ANYHOW
(geez this should be an 'obsessed with bf post' lol)
we were 'just friends' but somehow that made me feel like even more of a 'catch' when five months later in Brooklyn, NY, BF let me know he thought of me as his GF. I was deer in headlights for a good day or so after that lol!
But it was good, because I had started to feel the same way, I just didn't want to make it weird or lose him as a friend.
Back to the chemistry. I haven't really had a lot of boyfriends
(ok like maybe 4 total in my life
). But with BF, it's like he is air to me and I just want to breathe him in.
And it doesn't hurt he wears Very Sexy by VS and Lush skincare/shave products, etc.
He just makes me feel sooo good about myself. Like I'm perfect even though I have always felt imperfect, quirky, and different from everyone else. And we can talk forever about really random ideas. And we're never bored, ever. Always going somewhere amazing and hanging out with cool people.
Dressler's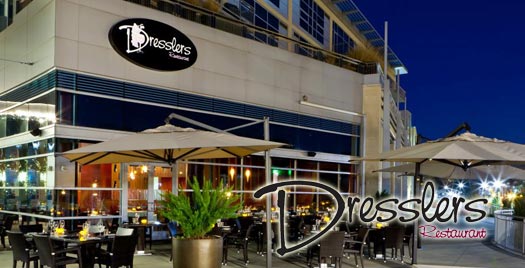 Ok this post has gotten entirely too long already and I still have tons to obsess over... going to shorten it up for sure! Just read
THIS POST
on Dressler's. It's the best restaurant ever. seriously. So. Much. DELICIOUSNESS! If you are ever in Charlotte, GO! PS, the owner, Jon LOVES bf and I. He e-mailed me after reading the post I just linked to above from May and said how 'heartwarming' it was. And we've been there since and he totally knows us. Gah, I love that place!
Hello Kitty
I just love her. She makes me happy. It's totally a flashback to my childhood. I have 2 HK themed tattoos. It's awesome. I did a whole post on my HK obsession
HERE
.
Sugar Skulls
via
My birthday is May 5, aka Cinco de Mayo. So although I'm the whitest caucasian white girl ever, I am very in touch with my Latin roots that I've claimed since my bday is on a Mexican holiday. And somehow through my love of things Mexican
(the food, people, etc)
I always celebrate Dia de Los Muertos (day of the dead). And because of that, I totally somehow identify and LOVE sugar skulls! In Asheville I got the coolest scarf with a sugar skull print. I'll post pics of it soon.
Nail Art
combining 3 obsessions into one picture via
I did an entire post of my Nail Art Obsession
HERE.
I just can't get enough. It's such a creative way to express yourself.
Chest Pieces
I think chest pieces are so gorgeous. It's not the most practical location or the most easy to cover up in professional situations, but I like them. A lot. I don't think I would ever get a chest piece, but I admire them on other people all the time.
Target
Yup, I brag about this all the time, but there's a Target literally directly across the street from where I live. And yes I walk there all the time. It makes me so happy just being in there. And my Target has recently become the grocery store kind. So I can get fresh fruits, meat, etc. at my Target. Pure heaven.
These things make me happy, these things make me glad. They each cheer me up whenever I feel sad
(or happy, or bored, or lonely, or busy or hungry....lol)