Today's
SO What's!
are on things I'm excited about and thankful for!!! Most today are blog-related and I have included links, pictures, and information so you can get in on the excitement too!!!
So What!
I'm taking part in a coffee mug swap on
Ohemgee
!
(click the pic for info)
It's an international swap!
(so if you are not in the US you are able to enter too, yay!)
I have met some amazing girls through blog swaps. Swaps are like taking blogging to the next level. Love it!
PS That's how I met Natalie (the one hosting this swap). PSS if you don't have a blog but do have Instagram, it's open to you too! Just tag #OMGcoffeemugswap.
So What!
I'm also taking part in a holiday swap!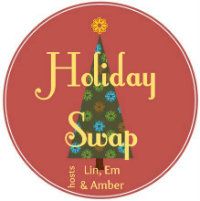 Yes, there are several holiday swaps that have already popped up, and this is the one I'm doing! I Love
Lin
and have gotten paired with the best ladies taking part in her swaps in the past. OOH! That is my tip for swaps, if the people hosting the swaps are cool, you probably will be paired with someone cool!
So... that is why I highly recommend you sign up for this holiday and the mug swap!
So What!
I currently have not one but TWO amazing giveaways on my own blog right now. I have honestly never felt so fortuinate. First I have the amazing SkIndulgence full size product set giveaway thanks to my girl
Dori
.
a Rafflecopter giveaway
Second, I have $50 to Tiny Prints giveaway.
a Rafflecopter giveaway
So What!
Of course I love the social aspect of blogging, the meeting new people I would never know otherwise... finding people who are just as Hello Kitty obsessed and self-absorbed as I am
(I kid, I kid... sorta).
But something else I've really been thankful for are the product review/monitary aspects blogging affords me as well. Just yesterday I received
Just Dance 4
in the mail to review
(the review post will be coming up in the next week or so)
. This is a game I ABSOLUTELY had on my list to purchase for Gav for Christmas... we love dancing and the wii soo much! And here it is, on my doorstep for us to have. It's a blessing, truly.
The last thing I'm saying
So What!
to is the opportunity to promote my Etsy shop,
ShopLeah
. You, the ladies who read my blog are the ones who support me in this venture, and I can't thank you enough.
So What! I'm feeling thankful for all the opportunities my little pastel blog of cupcakes and Hello Kitty bows has allowed me. I am honored to be able to offer giveaways to all of you and offer giveaways of ShopLeah on other blogs as well. As much as I feel lucky receive; it feels even better giving back.
If you've only been blogging to connect with others socially, I encourage you to explore the other areas that blogging can enrich your life. It feels sooo amazing to offer giveaways and truly give back to your readers. I still give away things I've purchased or made myself. It's not always sponsored giveaways... except those are are totally the best!!!
What are you saying
So What!
to? Link up with Shannon and share!