"This feels natural, like peeing outside."
Yep, one of the priceless gems Gav said as we put on our ice skates last night.
There is a downtown rink in the city where we live. Our apartment complex rented it out for a private party and invited everyone skating. Sounded like a fun (and free) Sunday night to me!
Gav did really well this time. He's gone ice skating before, but it has been a couple years so we took a few laps with him holding onto me or the wall before he skated on his own.
We live in North Carolina, and the temperature last night was about 60 deg. The warm'ish weather didn't require us to bundle up at all, but we did anyway, just for added cushion.
Check out the Krispy Kreme snowmen they brought for snacks. So cute!
To drink, we got water was called 'Melted Snowman' which is a cute name until you start thinking about it. Bird poop, sticks, lumps of coal.. not really bringing up images of what I want in my mouth.
The ice skating rink downtown also had a sledding hill of ice set up. You may remember
Gav and I going snow tubing
last year. This wasn't quite the same. But Gav still had fun. I passed on this one.
Last Friday was the official tree lighting. We didn't go, but the tree was right by the rink and super tall.
On our way home, I drove us through Sunset Hills, a really amazing area at the holidays. The whole neighborhood decorates the trees by hanging these lighted balls. They are made of chicken wire and holiday lights. It's so gorgeous! And it goes for miles and miles.
Every year I drive by this house (below) and always say the same thing, that I wish I lived there and my bedroom window overlooked the lights. It's right on the main corner and each way are lights in the trees as far as you can see.
I haven't seen one yet in person, but I have been keeping an eye out for the Hello Kitty inflatable.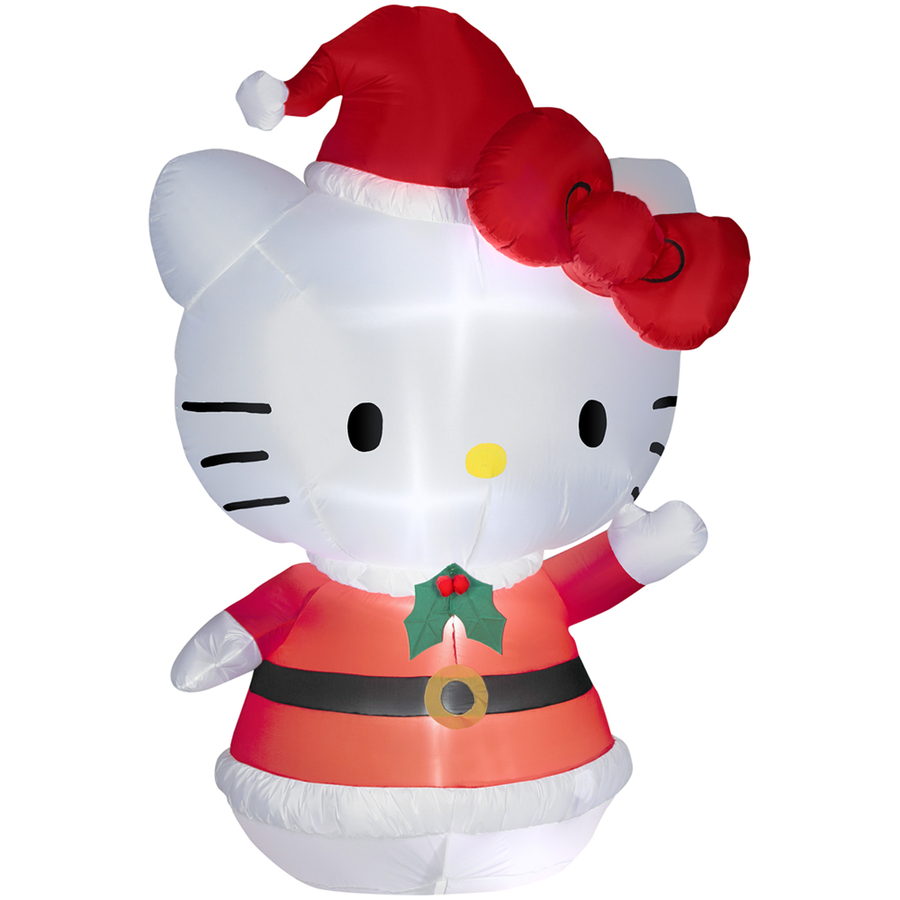 via
My step mom saw one and sent me a pic, but it didn't turn out because she was driving. If anybody sees this in action, send me a pic! It's $59 at Lowe's which is kind of pricey. Plus I live in an apartment, and these pretty much require a house. or at least a balcony and I have neither.
Apartments are great for stuff like giving their residents an ice skating party. But I don't have a place to put a HK inflatable :( Unless I put it inside, yikes! lol!