I had so much fun doing my Thursday link-ups as a
vlog last week
, that I made another vlog this week... and this time, Gav is in it too! He and I answer the questions for
23Seventeen
's Coffee Talk and
Random Thursday.
A little more info on what Gav and I were talking about:
Here's a printscreen of Natalie's design currently on
23Seventeen
. Super gorgeous, right? Loving the lace!
PS Natalie has a whole
design site
if you want her to hook your blog up.
We were saying hi in the vlog to my good friend since kindergarten Kari' & her kids! (They are big fans of my vlogs as well) We all went to the beach together a couple years back. We had so much fun. Here's Gav and Kari's daughter. Gav was 4, her daughter was... yikes... 2? Seems like yesterday, but they were so young. So much cuteness, right!!??
Oh yeah, and it happened to be my birthday , Cinco de Mayo, when we were there AND we had babysitters so we got to go out and celebrate kid-free. Even better Kari's husband drove us everywhere!!!
Speaking of Kari she wins at life... she made me HK rice krispy treats for my bday!
Ok, so this vlog is about none of the last parts lol. But you know I have to somehow incorporate HK into every situtaion. #Truth
The Second link-up is with
Random Thursday
.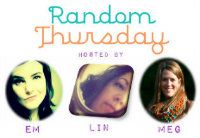 Gav answered this question in the vlog... but I just realized that I didn't.
Honestly... I believe in karma. I'd look around and see if anyone was near by if I found $100.
If I didn't see someone who could have been the owner... I would use the $100 for good. I wouldn't think of it as 'stolen' because it was just lying on the ground. So I would either donate it directly to an orgization in my city that I believed needed it at the time (such as the Women's Resource Center). If I didn't donate it I would purchase items for people in need, such as sandwich supplies for Urban Ministry's Opperation Sandwich that feeds homeless.
I hav been very fortuinate in my life, although it has had some ups and downs. Right now it's on the up and up, so I know it would be my karmic duty to use the money for the good of others.
What would you do? PS I totally won't judge you if you say pay bills, because you very well could be that person needing the $$ and it could be a miracle that you found the cash to help your family :)