I haven't vlogged in forever, so what better time than now to do my
Random Thursday
and
Coffee Talk
link-ups as a vlog! Yes, I'm from North Carolina and I really love Hello Kitty this much. It's a little embarrassing. Actually not, it's awesome and I crack myself up nonstop in this thing!
"Aww Get it. Yes"
- Things I actually say.
Congratulations to
Kayleigh of Down at Fraggle Rock
on 100 followers. I am thrilled for her! She's seriously the best. If you don't follower her you're missing out. This girl is awesome.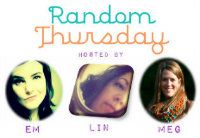 If you're interested in picking up a
Freaker,
they're only $8 each and the greatest invention ever. Seriously, it's a sweater hug for your drink, and infinity times more awesome than a lame foam koozy.
(See them at 5:24 in the video & in action at 6:26 on my Icee. On Hello Kitty glass 9:08. LOVE Frekers.)
Starts at 11:40 in Vlog


... these will make sense if you watch the vlog, just sayin'
and I may sing...
1. Compile your best music mix tape!

2. Biggie or 2Pac?

3. Best music video ever made.

4. Put together your best outfit of your favorite singer/band in polyvore.com
5. What music is your guilty pleasure?

6. Quote your favorite lyric from a song.