I stepped away from my blog for what, not even two weeks and what happens? The whole GFC drama. Google Reader is apparently going to be no more. If you follow my blog another way, then this is about to be a super dull post.
And I'll be the first to admit I've never really been into RSS. I am old school.
But because my friends at google are forcing me to change, I'll be reading all of your blogs via Bloglovin' now.
And yeah, my blog's been on Bloglovin' for a while... I just never used the reader myself. Just had it as a subscription option for others. Anyway... Good news is I'm at 433 followers on GFC as of today OMG! That's like legit, you guys. Bad news is that number's about to mean nothing thanks to Google Reader giving GFC the axe. I'm at 104 on Bloglovin' aka back to the drawing board. sigh.
So if you didn't switch over your blogs thanks to the easy tool on Bloglovin' you can manually add me. Click on the lovely Eifel tower below.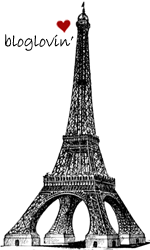 And because I feel like such a follower (no pun intended) having to make this switch just like everyone else. Totally against my will. I'll leave you with this song I feel is appropriate for this situation only hardcore bloggers will understand... they're taking away our reader :(
Follow my blog with Bloglovin